Thinking About Agile Certification?
Agile certification is high on many project manager wish-lists right now
Holding a certification in this flexible project management methodology makes you a popular choice with potential clients and employers. Understanding how Agile works and how to implement Agile principles to a live project helps you respond to changing project requirements – an important skill in today's fast-paced working environment.
We've compiled this short guide to getting certified to help answer one of the most frequent questions we hear: "How Do I Get Agile Certified?".

Why Get Agile Certified?
If you're interested in Agile project management, getting certified is a wise decision. Here's why:
Expand Your Capabilities

Today's project manager needs to be able to respond to shifting priorities and shorter project lifecycles with ease. Agile can give you the tools you need to do just that.

We find that many project managers, both new and experienced in the more traditional approaches to project management are expanding their capabilities with an Agile qualification.

Smarter Projects

Agile is a smart, streamlined approach to sustainable project management. It's focused on keeping things simple, collaboration, a high level of stakeholder engagement, and regular value delivery.

Enhance Your Career Options

With the rapid growth of Agile's popularity, certified Agile project managers are in demand throughout all sectors.

Through training and achieving international certification, you create many new opportunities for your project management career.


More Agile Inspiration
You can read more about why Agile certification is a great idea by reading the Professional Development article, "5 Benefits of Choosing an Agile Certification".
Choosing the Right Agile Certification
There are many Agile qualifications on the market right now. There is no overall "best" Agile certification, only the right Agile certification for your needs. Here's a great way to make your choice.



Decide what's important
Begin by noting down your reasons for choosing Agile, what you need from a certification, and what factors are important in making your projects run more smoothly.
Once you've got a list, identify your top essential requirements. This is your Agile training and certification shopping list.



Choose training that ticks the boxes
Begin your research by looking at the different training and certification options available. Don't be afraid to ask for advice from training providers and colleagues.
When you've found the training and Agile certification that answers the top requirements on your list, look at how that training is delivered.


Choose training that fits your schedule
It's important to select a training and certification option that fits your lifestyle. For example, choosing a self-led online option may be so convenient if your busy schedule makes it impossible for you to find time to attend live training.
Look around for the most suitable option for achieving success on your timetable.

Steps to Agile Certification
The certification process will vary between different training providers and certifications, but we've listed the process for our most popular Agile certification as a guideline.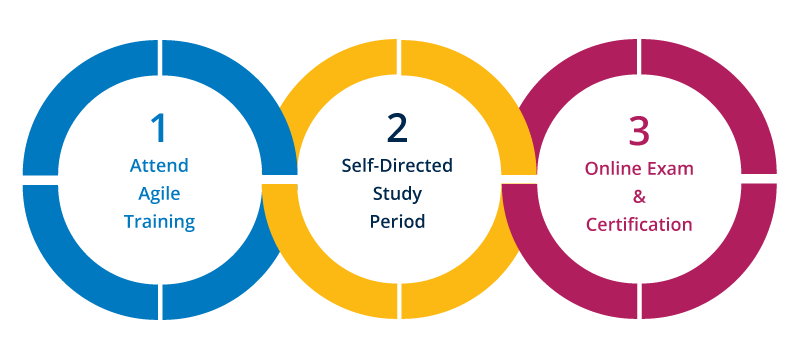 Complete Training

Our Agile Certified Course is available as live virtual classroom training or a self-led e-learning course. It's a focused approach that works efficiently to equip you with a strong understanding of the Agile methodology, and begin preparing you to sit the exam.

Online Study & Exam Preparation

Following training, you'll gain access to our online learning portal. The study period varies from person to person, but with focus you can be ready to sit your SCRUMstudy Agile Master Certified (SAMCTM) exam in a short timeframe.

Online Exam & Certification

The online SAMCTM exam is 120 minutes in duration. Upon passing your exam, you'll achieve your international Agile Master Certified qualification.
Start on Your Agile Certification Now
Take action on your Agile certification process today by getting in touch. Click to ask us a question about Agile certification, or to learn more about our Agile Certified Course.